Submitted by andre on Sat, 2013-11-02 11:09.
In our recent paper which was published in the current issue of Science 342, 457 (2013) (also available at arXiv:1307.3443), we study the formation of a Fermi sea one atom at a time. We investigate the crossover from few to many-body physics in a quasi one-dimensional system using a single impurity atom which interacts with an increasing number of majority atoms that are in a different state. We could show that for the investigated quantum impurity systems as few as four particles are enough to describe the system with the many-body theory.

More information can be found in the press release (in English or German) from the University of Heidelberg.
Furthermore, our publication is also discussed and explained for a broader audience, for instance in physicsworld and in a science blog.
Submitted by andre on Sat, 2013-11-02 10:45.
Our work on finite fermionic systems was recently covered in a science blog by Chad Orzel. The article nicely summarizes and explains why few-body systems are interesting and what we are able to do with these kind of systems.
Submitted by vincent on Mon, 2013-02-18 17:23.
In December last year we moved our experiments from the MPIK in Heidelberg to the Physikalisches Institut, also in Heidelberg. In this new building, the rooms for our labs had just been finished before. We decided to keep the optics and vacuum chambers mounted on the tables for the move. This allowed us to start up our experiments quickly: As of now, one experiment is running as good as before the move, the other experiment is steadily getting there.
Submitted by andre on Fri, 2012-05-25 08:21.
Submitted by martin on Thu, 2012-04-05 17:22.

The new BEC
Johanna Bohn recently finished her diploma thesis, which describes the setup of our new dipole trap and the molecular BEC we are able to create in this trap.
The thesis can be found here: diplomarbeit_johanna.pdf.
Submitted by selim on Tue, 2012-02-28 18:54.
In our latest paper we make two distinguishable atoms behave as if they were fermions, and verify this by comparing them to two identical fermionic atoms. The paper has been selected as an editor's suggestion by PRL, and was highlighted by a Physics synopsis:
http://physics.aps.org/synopsis-for/10.1103/PhysRevLett.108.075303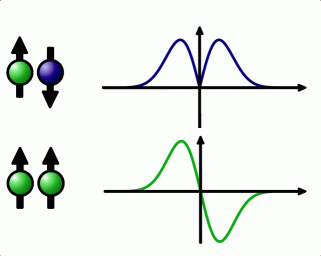 2 distinguishable vs. 2 identical atoms
Submitted by andre on Thu, 2011-04-14 19:23.
We sucessfully prepared a tunable quantum system consisting of one to ten fermions. We prepare such a system using ultracold Lithium atoms in a micrometer sized optical dipole trap. Due to Pauli's principle one quantum state in the trap is occupied with one atom per spin state (red and blue balls). By tilting the trap we can control the number of remaining quantum states and thus the number of particles.


Schematic preparation scheme of the tunable few-fermion system
The paper is published in the current issue of Science. The ArXiv version can be found here and there is also a press release (in German) by the University of Heidelberg.
Submitted by andre on Fri, 2011-04-01 10:54.
Submitted by martin on Mon, 2010-11-29 10:36.
Philipp Simon recently handed in his diploma thesis, which further characterizes the new MOT and Zeeman slower and can be found here: